Natchez Trace Parkway Virtual Jog & Bike Ride - Available as a DVD or HD Download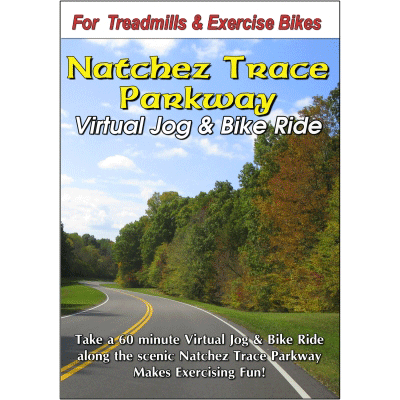 Take a 60 minute Virtual Bike Ride along the beautiful Natchez Trace Parkway, stretching from Nashville, Tennessee to Natchez, Mississippi.
The Natchez Trace Parkway Virtual Bike Ride Video begins at the northern entrance of the parkway just outside of Nashville, Tennessee. As you head southward, you note that the trees are beginning to change to their vivid Autumn colors. Further south, the trees are still green and the parkway parallels the shore of the Ross R. Barnett Reservoir. The parkway swings away from the reservoir for a few miles and enters a lush green forest before returning to the shore of the 33,000-acre lake for a number of miles. We pass over one last scenic bridge before coming to the southern terminus of the scenic Natchez Trace Parkway outside of Natchez, Mississippi. This DVD lets you experience the natural, scenic wonder of the Natchez Trace Parkway on an Autumn day!
Filmed in Widescreen.
Available as either a DVD for $14.99 or HD Download for $6.99 by clicking on "Links" - above left.
Click on "Watch Video Clips" - under "Links" to view samples from this Video.