Hawaii's Hau'ula Trail Virtual Walk - Available as a DVD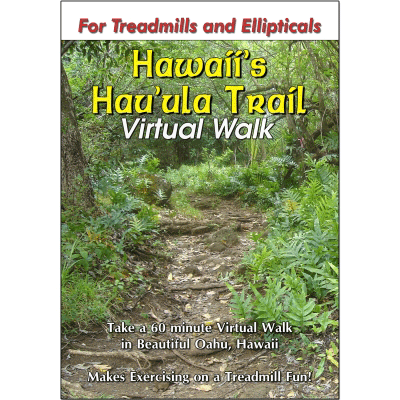 Take a 60 minute walk on Hawaii's scenic Hau'ula Trail, located on the North Shore of Oahu. The Hau'ula Trail is a 2.5 mile loop not far from the Polynesian Cultural Center on Oahu and is one of the best hiking experiences on the island. You enter the trail through an opening in the forest with a carpet of ferns. Your treadmill walk takes you uphill, through varied types of green plants, and from time to time along the trail, you stop to enjoy the amazing views - either inland to misty volcanic Koolau Mountains or seaward towards the blue Pacific.
And as a Bonus Chapter you get "Hawaiian Seascapes," an 18-minute featurette focusing on the beaches of two beautiful Hawaiian islands, is also included on this DVD! The featurette takes a look at the wide variety of coastlines on both Oahu and Kauai. Accompanied by a combination of lush, New Age and Light Classical Music, the bonus chapter can be used as a cool-down from your exercise session or, a beautiful stand-alone Hawaii travel video that can be enjoyed all by itself. You'll take a leisurely look at some of the most scenic vistas in Hawaii and you may recognize some sites used in the movie musical, "South Pacific." The 18 minute featurette ends with a montage of glorious sunsets from around the islands. Sorry but this video is not available as a Download.
Filmed in Widescreen.
Available as a DVD for $14.99 by clicking on "Links" - above left.
Click on "Watch Video Clips" - under "Links" to view samples from this Video.