The Greek Isles Cruise
November 2010 - by Kathi Jacobs

October 31, 2010 - Venice
After spending a week in Venice filming and reliving past experiences and making new discoveries of this haunting city, Wayne and I were ready to begin filming our Greek odyssey. Even though we work at every port of call it is always humbling to physically be able to visit living history and to become, briefly, a small part of it.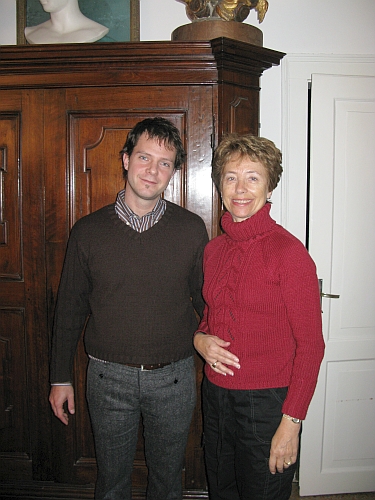 Time changed last night, back one hour. After having walked 4.5 miles yesterday we slept late before our breakfast chat with Antonio, our host for the past week in Venice.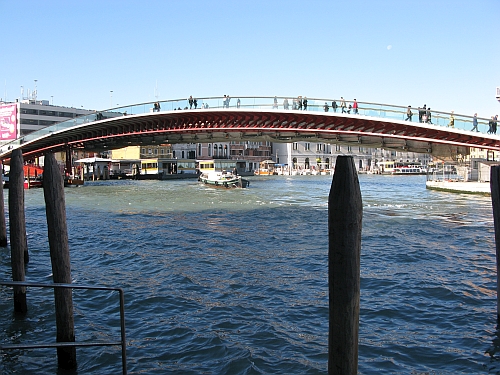 After our goodbyes and thanks to our host we walked the short distance to Piazzale Roma in a warm drizzle, but found it not unpleasant even laden with heavy baggage.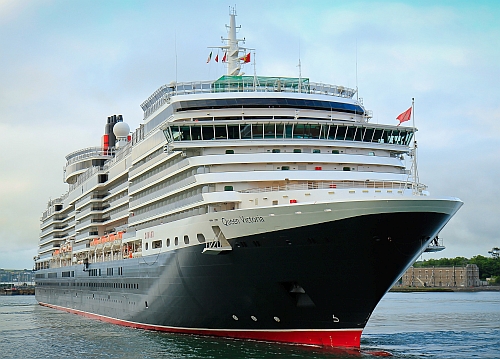 We took the complementary Cunard shuttle to the terminal and were checked in to our stateroom on the Queen Victoria and drinking tea before noon.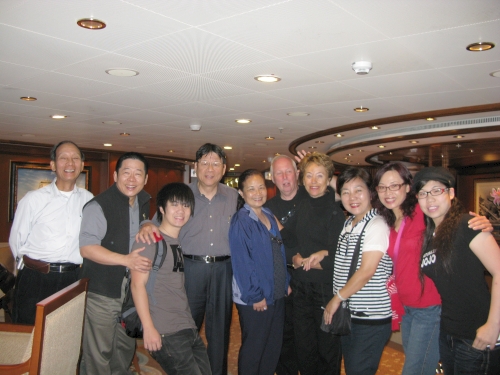 On board during the buffet lunch we had a nice chat with Susan, David, Bobby, and other family members from China – interesting to me, because it was the longest (about 2 hours) sustained conversation I had ever had with an Asian family. They were all very warm and outgoing, and Wayne had the opportunity to teach David how to take HDR digital pictures with his Canon camera.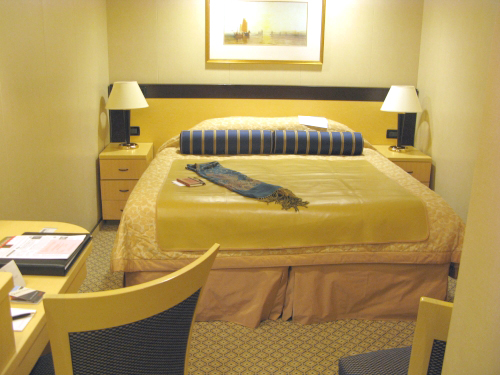 Back to our room to unpack and settle in before the mandatory safety drill. Late dinner at 8:30 PM at our table for six. Our dinner partners are from Alabama and Vancouver Island.
Monday, November 1, 2010 - At Sea in the Adriatic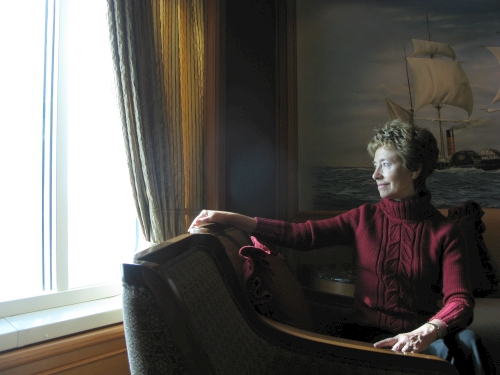 After a big, late breakfast on Deck 9 we attended a cha cha dance class. Tonight we will attend the Black & White Ball after the formal dinner.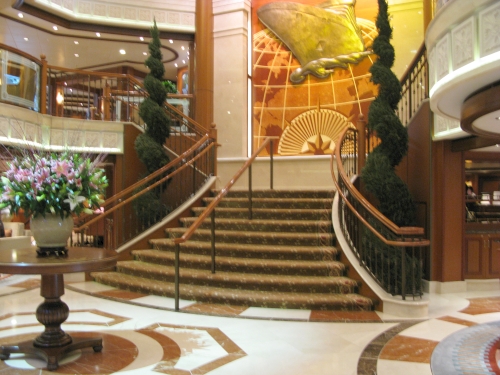 Even though packing for a Cunard cruise to any destination involves a massive amount of clothing, it seems to pay off when a lady walks down the grand staircase in a proper ball gown and sees hundreds of ladies and gentlemen similarly attired.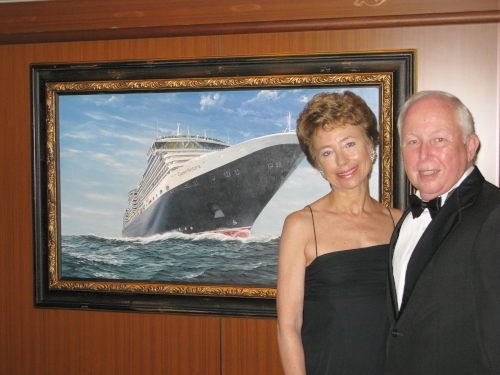 In my view these formal evenings sprinkle a VITA working trip with excitement and a lovely throwback to a kinder, gentler era of ocean travel.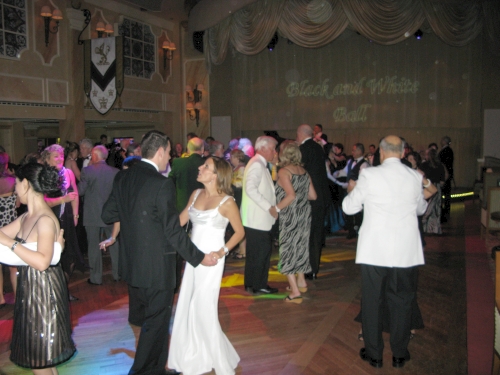 After dinner we enjoyed dancing in the Queen's Room, then returned to our room as we moved into a different time zone – setting clocks forward one hour. Before bedtime we worked on tomorrow's filming schedule.
Tuesday, November 2, 2010 - Corfu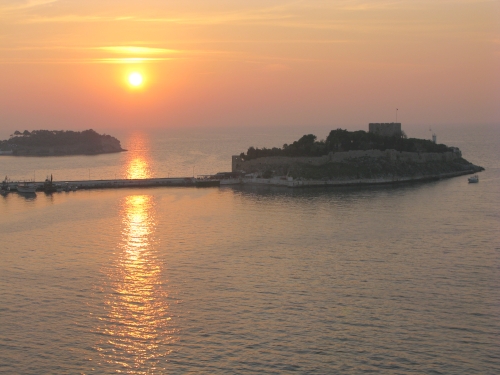 7:10 AM – I've just finished breakfast and now am enjoying a beautiful golden sunrise over the Mediteranean, as we sail toward Corfu. Corfu, or Kerkyra, is in the Ionian Sea in the northwestern corner of Greece. The island is very green and is awash with thousands of olive trees.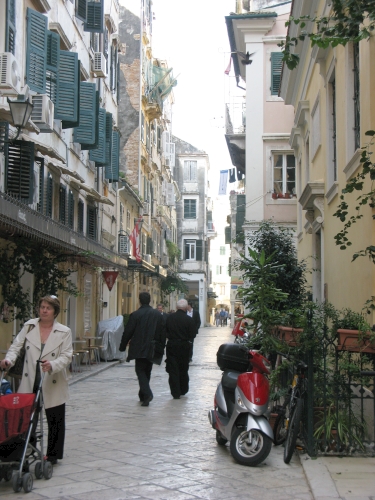 Corfu is the second largest island in the Ionian Sea, a place well-known for its cultural significance for thousands of years. Having just sailed from Venice we noted Corfu's architectural layout of narrow streets and alleyways, much more Italian in design elements than Greek cities tend to be.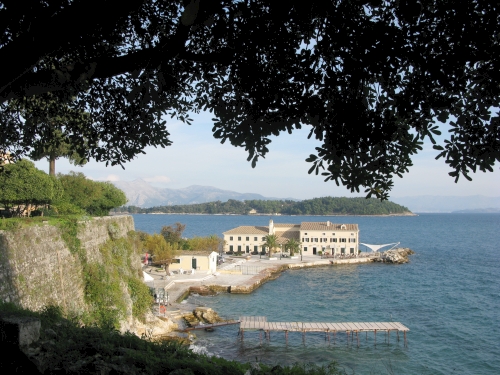 There's quite a bit of topographical diversity on the island: mountains to the north and northwest; flat land in the south; and the medieval Old Town containing both old and new fortresses with monuments dating from ancient Greek and Roman eras.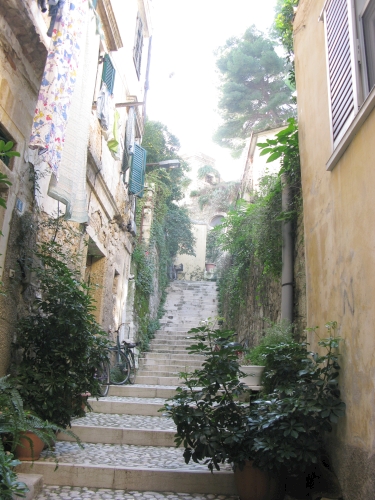 Throughout the morning we filmed as we walked through this open-air museum. Occasionally I was able to use my few Greek phrases, with rather good success. The Greeks, kind as ever, will quickly forgive a few mispronounced words when they see that the guest is making a sincere effort to fit in!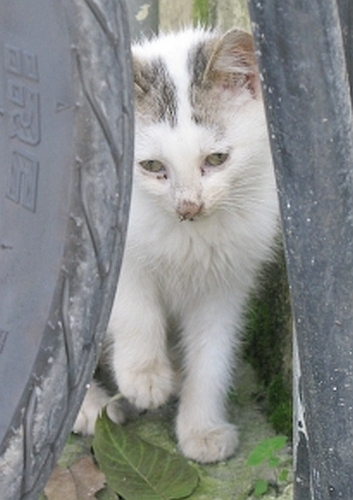 This afternoon while Wayne slept I attended a lecture entitled "Highlights of Kusadasi and Istanbul." Tonight we opted for a quiet dinner together in the buffet rather than a second formal night.
Wednesday, November 3, 2010 - Athens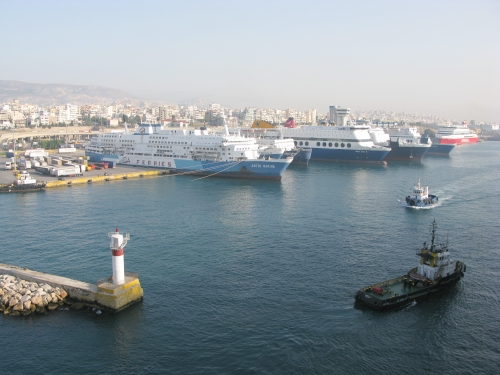 Leaving the Ionian Sea we sailed into Piraeus, the Athenian port of call in the Aegean Sea.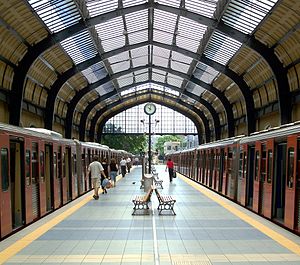 It's not that easy to get to Athens from the port of Piraeus. First, from our dock, we had to walk almost 2 miles to the train station, much of it uphill. While standing in line to purchase our train tickets into Athens, we overheard the lady at the ticket desk say that there would be a "scheduled strike" this afternoon beginning at noon and lasting until 4 PM. Wow - that certainly changes things - we were hoping to stay in Athens until then and come back on the train just in time for the Queen Victoria departure at 5:00 PM. Now we'll have to find alternative transportation back to Piraeus.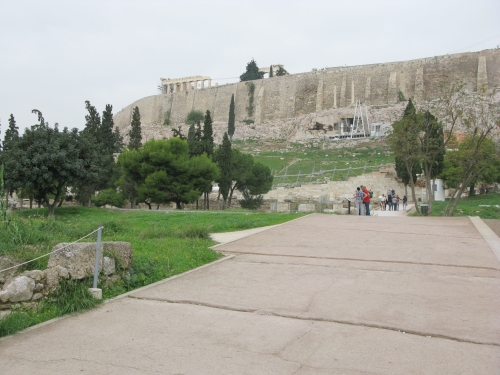 The train ride into Athens didn't take long, and once we arrived, we wanted to go straight to our primary objective, to film in the Acropolis. But in order to get from the Athens train station to the Acropolis, we had to take 3 different metro lines to reach it. Once at the base of the Acropolis, of course it was uphill all the way.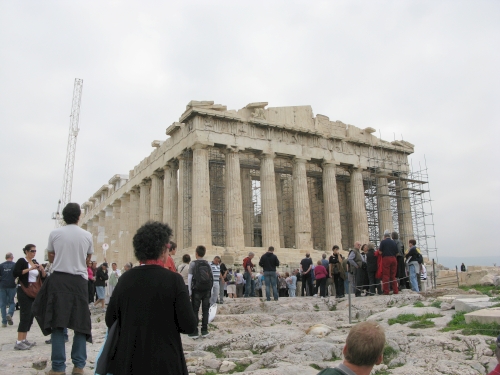 And when we finally arrived, what can I say? It was unbelievably crowded and thus virtually impossible to film a virtual walk. However, after an hour or so, the crowds thinned out a little and Wayne gave it the old college try. He actually filmed all of the Acropolis, down to and into the ancient Agora (this was blissfully almost devoid of tourists and made for a pretty walk.)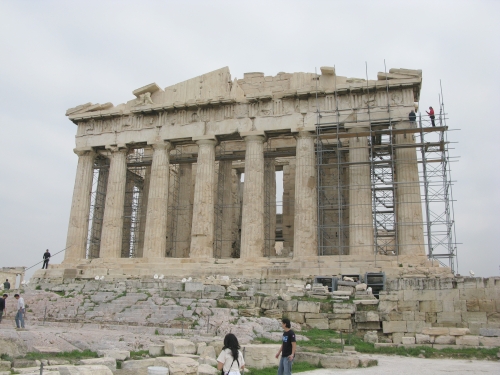 TRAVEL TIP: whenever you are on a cruise ship make every effort to debark as early as possible. Your time is extremely short in port, so maximize your travel experience as much as you can by avoiding the crowds. Even though it may be somewhat cumbersome and time-consuming to reach your goal, do not become discouraged! Each time I visit the Acropolis and walk up that hill to the Parthenon I realize what a privilege it is to be in this special place.

Athens is a many-layered city – a fascinating metropolis where one can stand on the Acropolis and, in a 360 degree rotation, travel back in time over 3,400 years... here in this city the Ancient Greek Olympics were inaugurated and human pillars of learning lived and walked in faraway times: Euclid, Pythagoras, Homer, Aristotle, Socrates and Plato to name a few. And here today the 21st century traveler can dine al fresco at twilight as the lights twinkle and sparkle from fishing boats in the harbor and let his or her imagination run wild!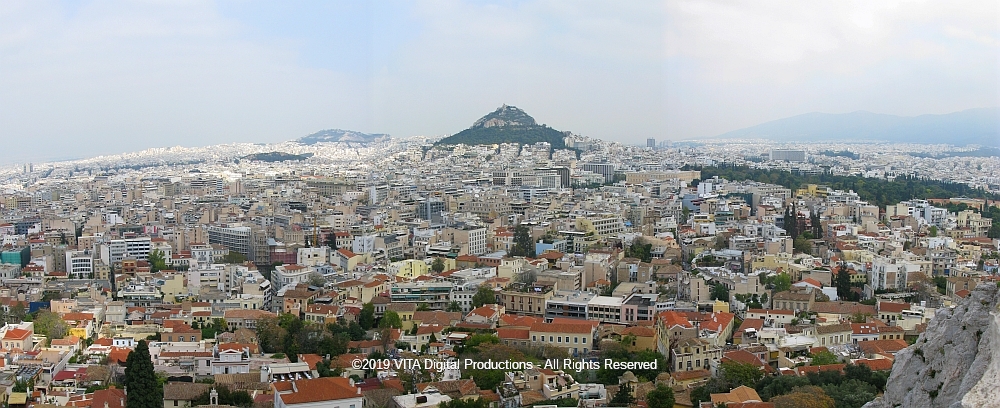 The Attic peninsula, or Attica, surrounded the city of Athens. As an early settlement it was positioned in a favorable environment in terms of the basic hierarchy of needs. The climate was mild, thanks to the Mediterranean, and provided ample opportunity for the earliest inhabitants to grow their food: cereals, figs, olives, and even vineyards. Fish were plentiful and good pastureland was readily available for grazing sheep and goats. The good clean air of the region was another factor in promoting human health.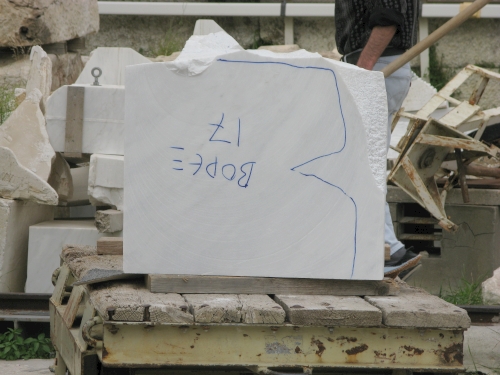 Later on, as the city grew and building began in earnest the discovery of precious white marble with blue veins was discovered on Mount Pentelicus. Pentelic marble was used to construct much of the Acropolis. And even today, the ongoing restoration and preservation of the Parthenon by the Acropolis Restoration Service (YSMA) is still using marble from the quarries at Mount Pentelicus: a worthy project indeed!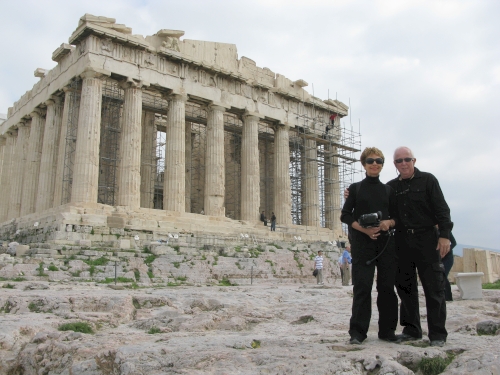 Of course, we had to have a photo of us at the Acropolis.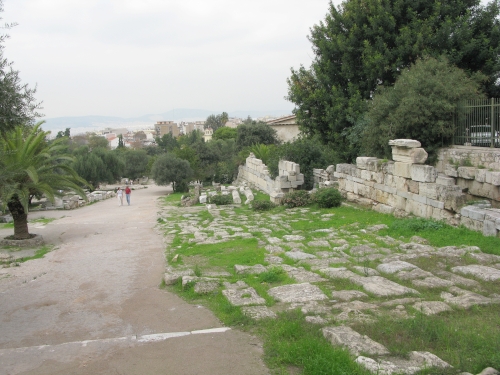 We then spent time filming another walk segment in the ancient Agora, the center of the athletic, artistic, spiritual and political life in ancient Athens.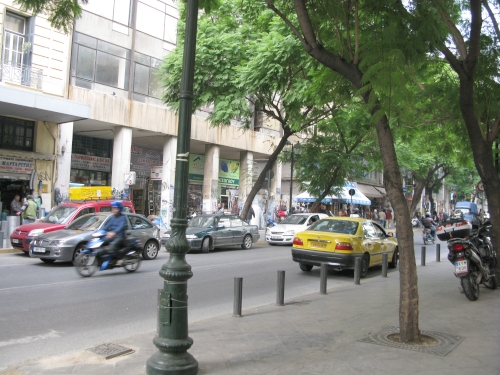 We left the Agora just after 2:30 PM, cognizant of the 5:00 PM deadline for return to the ship. Since we knew about the metro strike from 12:00 – 4:00 PM we decided to take a city bus back to Piraeus, but where to find the stop for the bus back to Piraeus?
After walking and walking, we stopped in a shop to ask where we could catch the bus. The shopkeeper told us where the bus stop was located and offered to sell us two tickets for the bus ride. We only had a 20 Euro bill and he didn't have the correct change so he gave the two bus tickets to us!
Just another of the numerous random acts of kindness we encountered on this trip.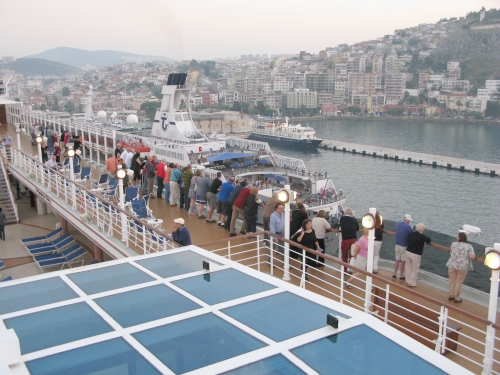 The bus ride was certainly an experience to remember. From the moment we entered the bus in central Athens, it was standing room only. At each and every stop between Athens and Piraeus, more people got on the bus. And just when you thought not a single other person would fit in the bus, two or three more passengers got on - and that happened at each and every bus stop.
Once in Piraeus, our bus unloaded at a central bus stop so we got off and waited for the bus to take us to the cruise port.... and we waited, and waited, and waited, and the five o'clock debarkation came closer and closer. When time was about to run out, and at the very last minute, we grabbed a taxi which took us straight to our port, but with only minutes to spare before the gangway was raised for our departure.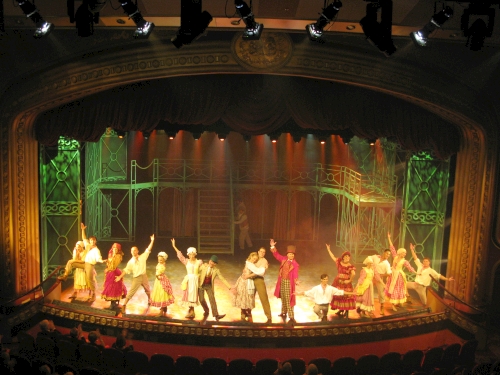 Thursday, November 4, 2010 - Ephesus, Turkey
After deliberation and due to Wayne's pretty bad sunburn from yesterday in Athens – we opted for remaining on board, resting, and doing more planning for Istanbul. We had not planned on filming a walk segment in Ephesus anyway, there will be too many people there to film. We plan on filming an entire walk in Istanbul so we have to do some detailed planning.
Later that evening, as the Queen Victoria made passage for Istanbul, we went to a show in the theater.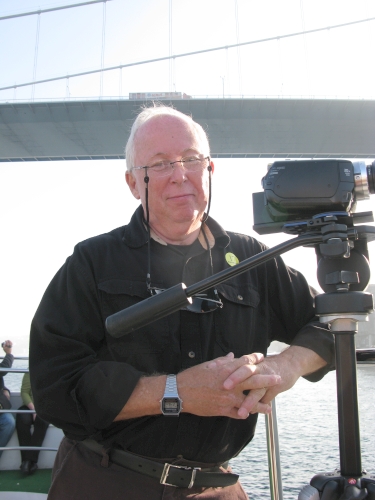 Friday, November 5, 2010 - Istanbul
We filmed docking in Istanbul just before 1:00 PM, then took an afternoon cruise on the Bosphorus. This is a narrow waterway located in the northwest of Turkey. Also known as the Bosporus it connects the Black Sea to the Sea of Marmara, which connects to the Aegean and Mediterranean Seas through the Dardanelles.
Wayne filmed video of the complete cruise which was eventually edited and used as a DVD Bonus chapter on our resulting "Exotic Istanbul Virtual Walk" DVD.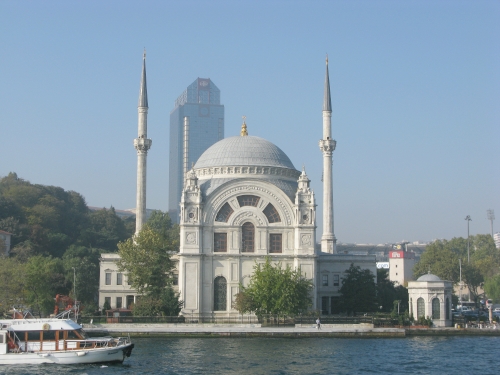 Geographically the strait has international importance as it forms a continental boundary between Europe and Asia. Historically the Bosphorus has always been important both commercially and from a military perspective. It is a major sea access route for several countries, including Russia and the Ukraine. Many modern-day conflicts have occurred over the Bosphorus: the Russo-Turkish War of 1877-78 and the World War I attack on the Dardanelles during 1915, the Battle of Gallipoli.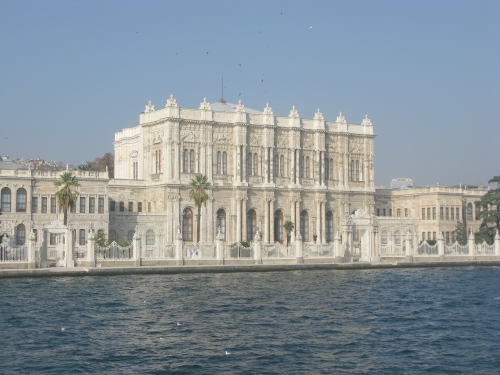 The Bosphorus has 620 waterfront houses (yali) built during the Ottoman period along the strait's European and Asian shorelines. Ottoman palaces such as the Topkapi Palace, Dolmabahçe Palace, Yildiz Palace, Çiragan Palace, Feriye Palaces, Beylerbeyi Palace, Küçüksu Palace, Ihlamur Palace, Hatice Sultan Palace, Adile Sultan Palace and Khedive Palace are within its view.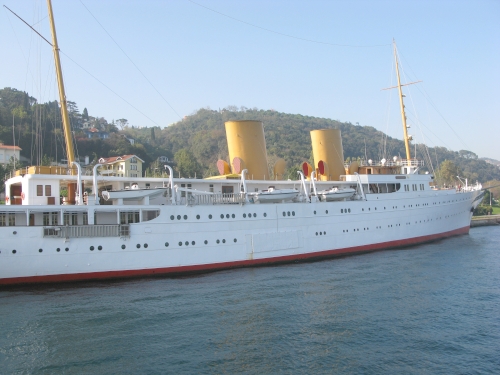 In addition to all the mansions and palaces along the Bosphorus, there were mega yachts too, like this one...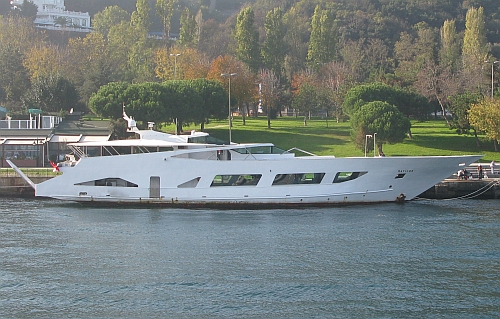 ...and this one.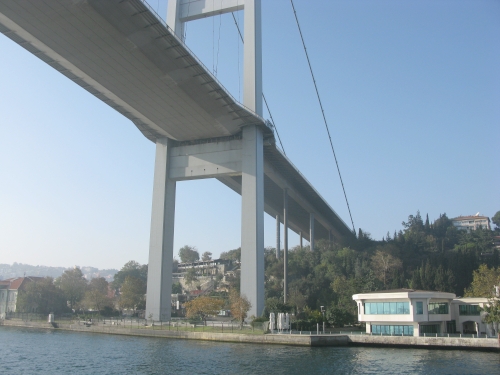 Our boat took us under the Fatih Sultan Mehmet Bridge which spans the Bosphorus linking the continents of Europe to Asia. When completed in 1988, it was the 5th-longest suspension bridge span in the world; today it is the 24th.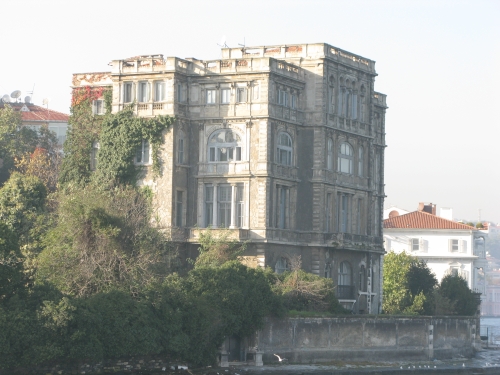 We were told that Bill Gates owns a home somewhere along the Bosphorus.... could it be this one?
On the Bosphorus Cruise, I shot almost 400 digital stills with the Canon G9 from the top deck. We enjoyed Cunard's sleek new private boat which easily held 150 people.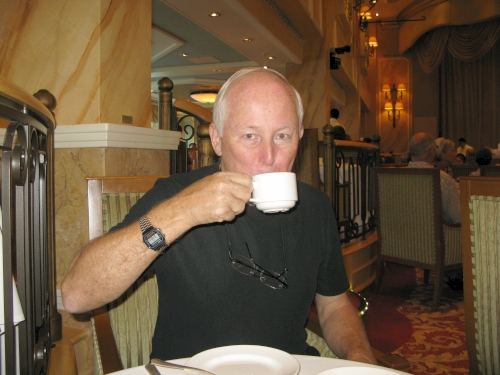 After tea we previewed the two Athens tapes. Since we have done our research and have planned to film a virtual walk tomorrow, we will have a quiet dinner and make this an early night.
Saturday, November 6, 2010 - Istanbul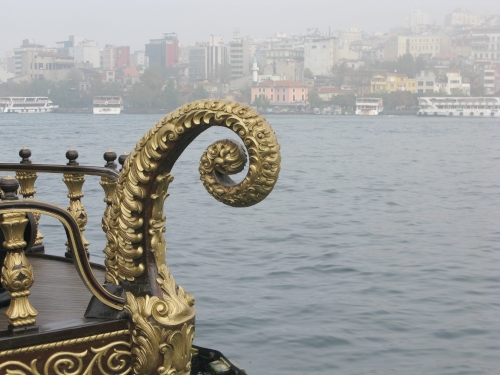 Istanbul holds the distinction of being the only city in the world which not only straddles two continents: Europe and Asia, but two cultures as well. Formerly known as Constantinople and a capital of the Roman Empire, Istanbul holds much fascination and exoticism for the 21st century traveler.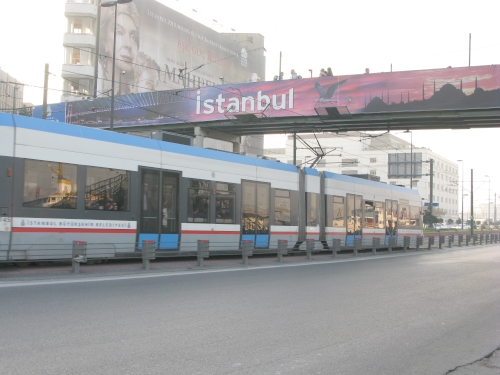 The ancient Greeks formed a colony here in 7th century BC. The Romans conquered the area in the late 2nd century AD and renamed the city as Byzantium. This name held for nearly 150 years before being renamed once more as Constantinople.
Since 1930 the official name of this Turkish city has been Istanbul.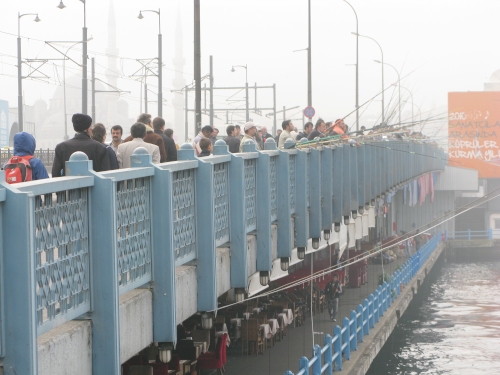 We left the ship on foot at 9:30 AM and had a very productive filming day in port. Wayne worked prodigiously filming a virtual walk which began on the pedestrian bridge across the Bosphorus.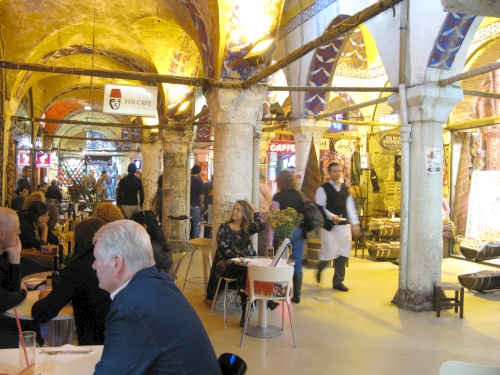 We both felt and enjoyed being in the midst of everyday life here, passing moment to moment from modern to ancient civilization and back again.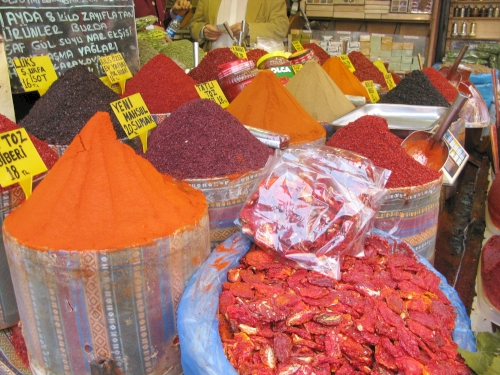 We filmed walking through the Spice Bazaar...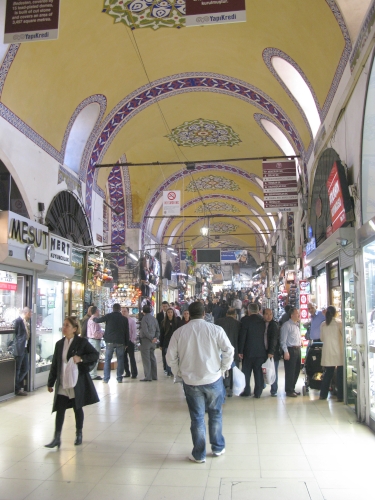 ...the Grand Bazaar (dating back to 1461)...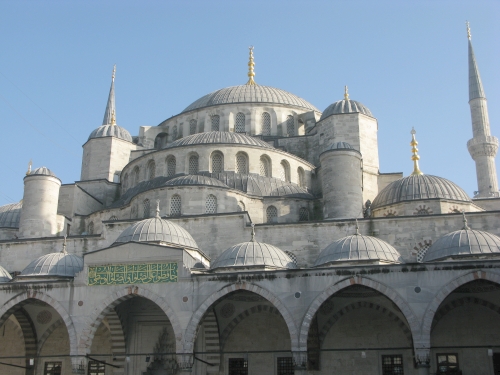 ...and on over to Suleiman's mosque,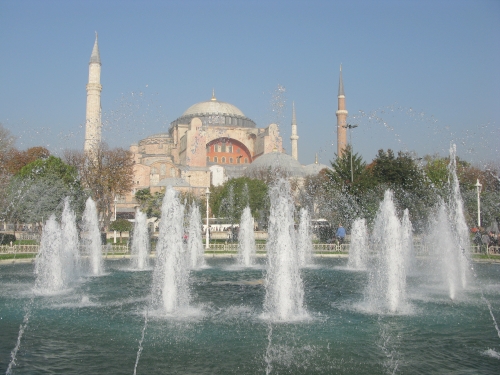 ...past Hagia Sophia (now a museum)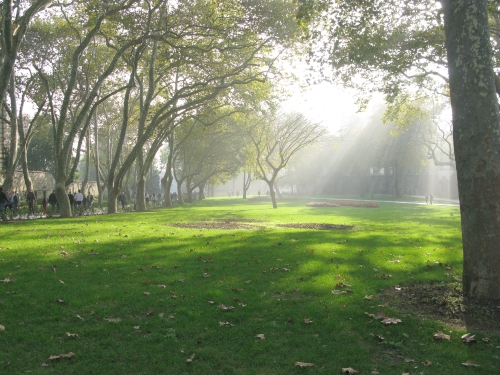 ...and along the lush greenways around Topkapi Palace.
Wayne and I shared our pre-packed lunch of ship sandwiches with this very friendly – and polite! - butterscotch kitty as he played hide and seek with us from his side of a brick wall which served as our picnic table. The weather cooperated and gave us beautiful blue skies and a warm sunny day.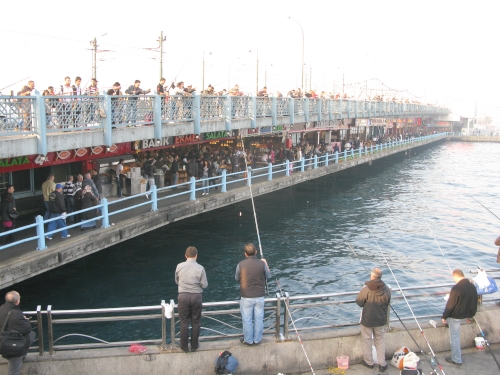 After walking appoximately 10 miles today, we wrapped up the filming on, under and by the pedestrian bridge.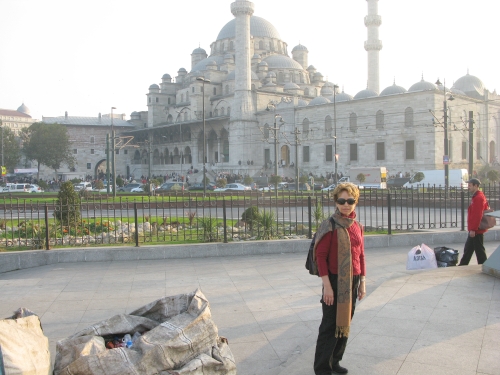 Istanbul is a true smorgasbord of people, animals, ferries, foods, and the muezzin calls from the minarets.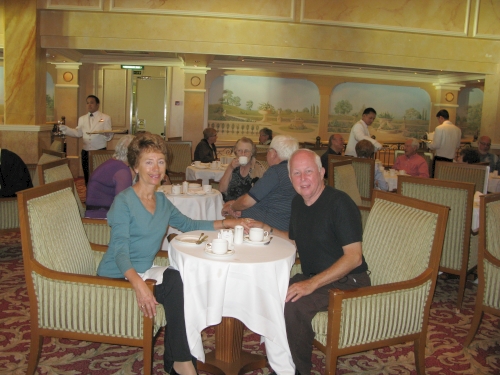 We returned to the ship at 5:00 PM for a very quick teatime upstairs in the Queen's Room.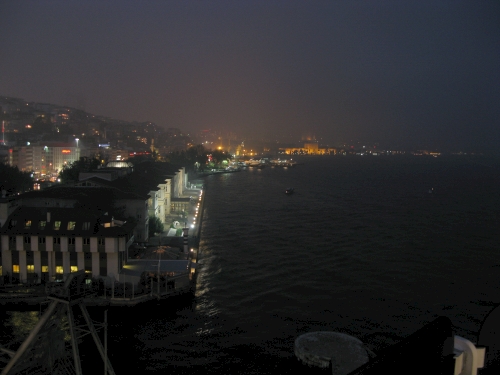 Afterwards we went to the upper deck to watch the disembarkation from Istanbul just after sunset.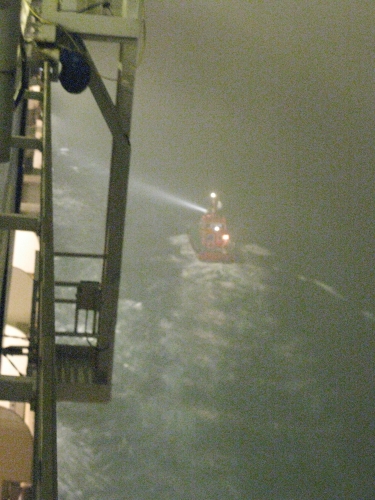 Lots of maritime activity with boats of all shapes and sizes as we sailed from the Golden Horn and onwards into a dense fog – very eerie and atmospheric.
Here the pilot boat comes alongside the Queen Victoria for the pilot to hop aboard and return to Istanbul.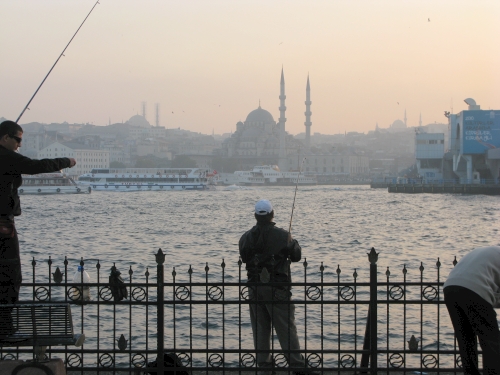 Later in the evening as we reviewed the footage shot on this most recent visit to Istanbul, we departed with a sense of satisfaction and good memories of a special couple of days.
We're convinced that we have enough footage to create a one hour Exotic Istanbul Virtual Walk Video download and DVD.
Sunday, November 7, 2010 - At Sea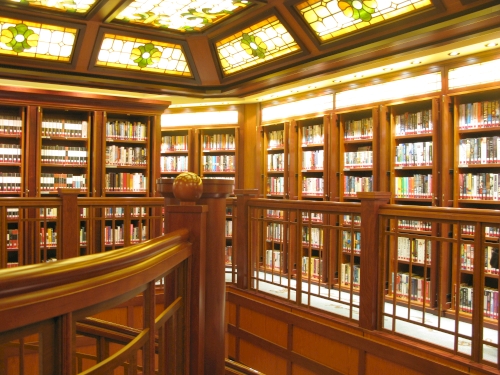 Slept in this morning and enjoyed a late breakfast. Wayne went to a Photoshop seminar while I caught up on my journal.
Since we are at sea and therefore unable to work, we took advantage of the ship's activities. There is a nice library on board and I always enjoy those quiet hours on a sea day to relax and recharge my batteries.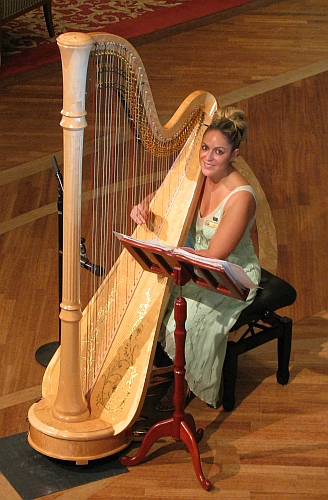 Another black tie evening and the Ascot Ball. We danced and people-watched, and had some pleasant conversations with fellow cruisers from around the world.
Later we attended the show "Dance Passions" which featured very talented Russian dancers.
Monday, November 8, 2010 - Rhodes, Greece

A magical day! On the island at 8:30 AM (we were the very first passengers off the QV) and began filming a virtual walk in less than 10 minutes. This very rarely happens, but everything fell into place nicely this morning.

This is my third and Wayne's second trip to the island of Rhodes. Wayne and I were here in 2000 on previous cruise of the Greek Isles.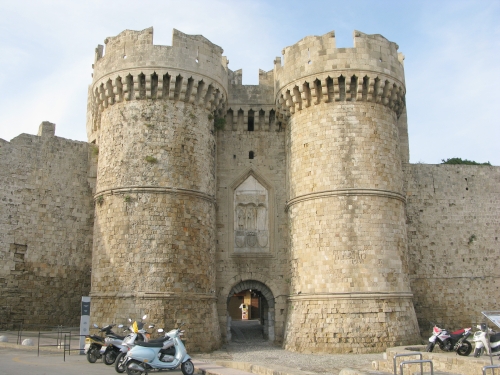 Rhodes is the largest of 12 islands in the Dodecanese. It is located off the coast of Turkey southeast of Athens. Historically the Knights of St. John of Jerusalem practiced hospice care here on the island from the early 14th century to the early 16th century. Also known as the Sovereign Order of St. John of Jerusalem, their focus was on reaching out to the sick and the destitute and on ways to improve patient care and survival rates for the poor and needy. For this reason Rhodes is often referred to as The Island of the Knights.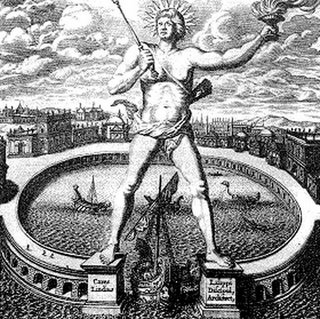 Rhodes is known throughout the world as the site of one of the Seven Wonders of the Ancient World: the Colossus of Rhodes(280 BC-226 BC.) Although the statue is sadly no more in existence, one can still purchase gorgeous gold jewelry featuring its design. Having purchased a pair of earrings on the island 25 years ago, I can say that I still enjoy wearing that beautiful jewelry today!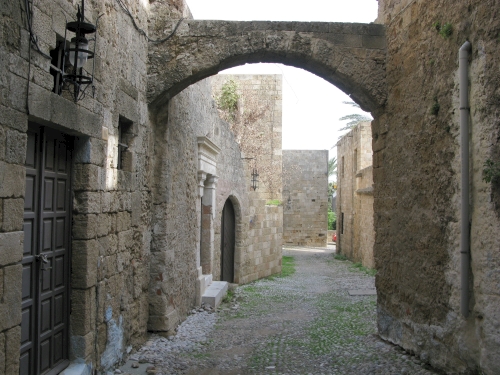 It is worth noting that the old medieval city has been designated a World Heritage Site.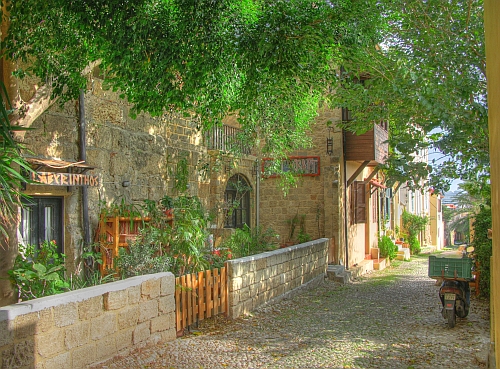 Special moments of the day: finding tourist-free lanes and back streets of Old Town...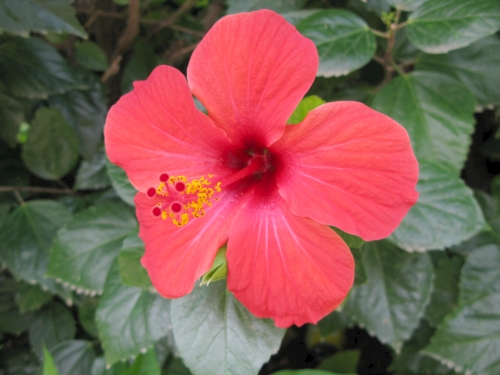 ...redolent with blooming hibiscus and morning glories;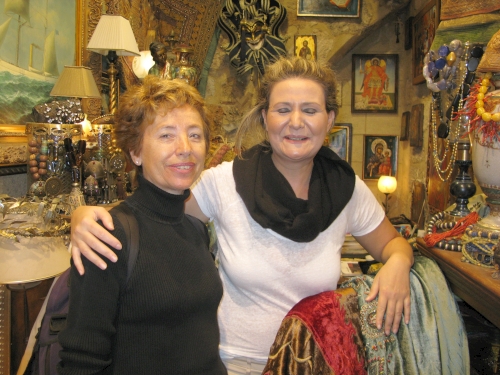 reconnecting with the same friendly lady in whose shop we purchased a silver table runner ten years ago – and buying yet another of her beautiful pieces and meeting her young son, Lucas;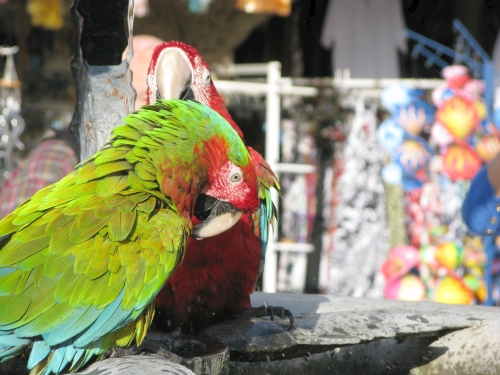 watching two gorgeous macaws take their very spirited afternoon shower in one of the many fountains about town;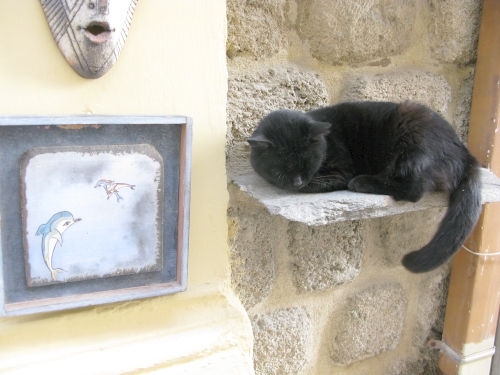 taking pictures all over town of the many wonderful cats in Rhodes;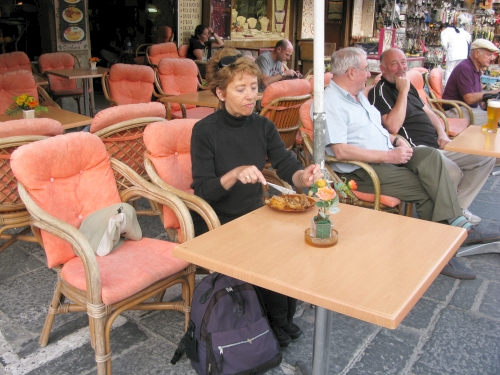 having baklava at a sunny outdoor cafe in one of the town squares; and walking hand-in-hand through our most favorite spot in Greece.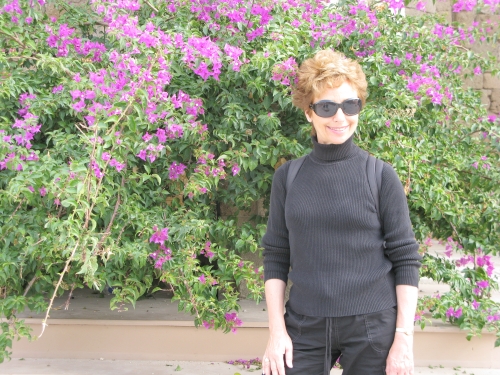 Yes indeed, a magical day...
Tuesday, November 9, 2010 - Santorini

Last night we looked at our daily program to plan our filming for Santorini. Wayne commented that this would be a tough filming day due to 1) limited time in port; 2) the prediction of high winds; and 3) the number of ships in port all carrying thousands, of tourists all wanting to experience the island.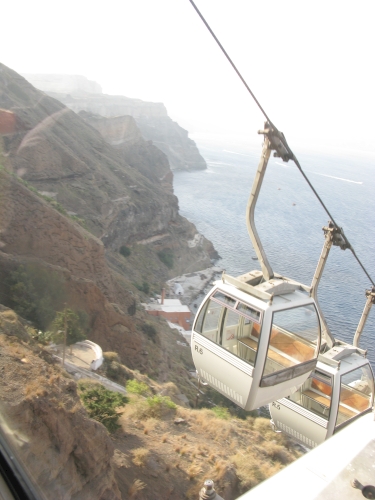 This morning we grabbed an early breakfast and headed to the chart room to board one of the first tenders. We got to Santorini and took the funicular up to Thira, the first village after you ascend from the harbor.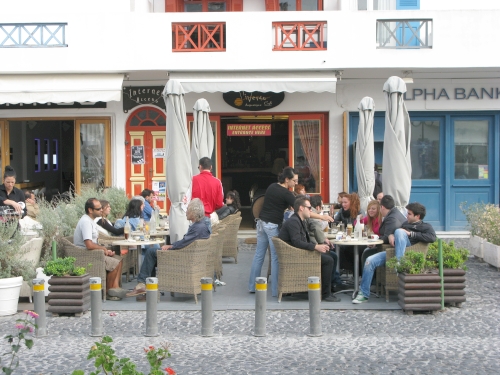 It was just before 9:00 AM and Wayne immediately began filming a virtual walk. How frustrating for him to be here on this natural dramatic seacoast above the Caldera, trying to visually capture the "feel" of Santorini, and it just was not possible due to the massive numbers of people. And minute by minute, as more tenders arrived from the cruise ships in the Caldera, the crowds became larger and larger.
My husband is an experienced and creative videographer, but also a realist who knows when filming impediments make a venture nonproductive.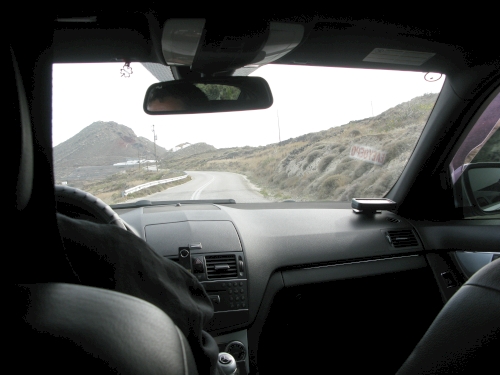 Thus we cut our losses in Thira and took a taxi up to the scenic village of Oia.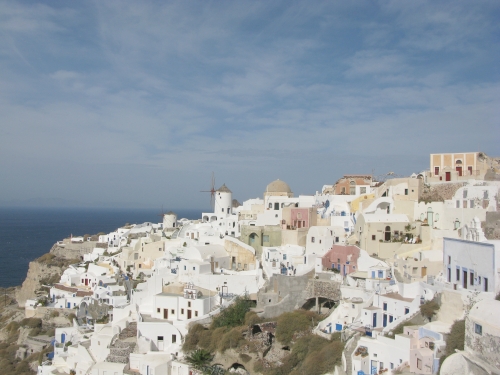 Dating back to the time of Venetian rule in the 13th century, the small town atop Santorini experienced its heyday in the late 19th and early 20th centuries.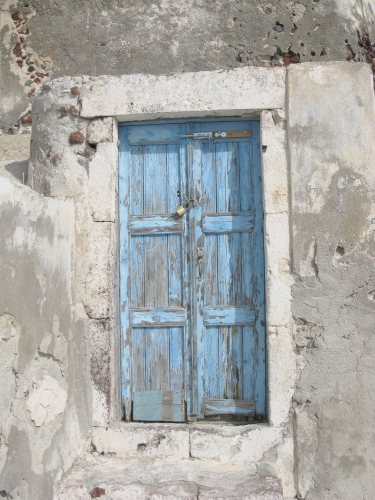 Maritime commerce in the Mediterranean was booming due to its location on the popular sea route between Egypt and Russia.
Wine was being made for transport to France, and from records still available, it was apparently quite good wine!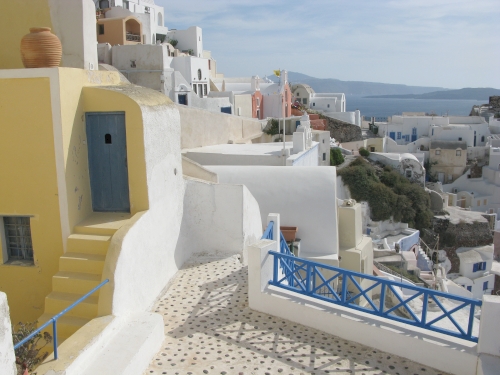 Sadly, about a century ago, many things happened to diminish the prosperity of the little municipality; the steam engine, a change in the shipping routes and civil unrest all played their part.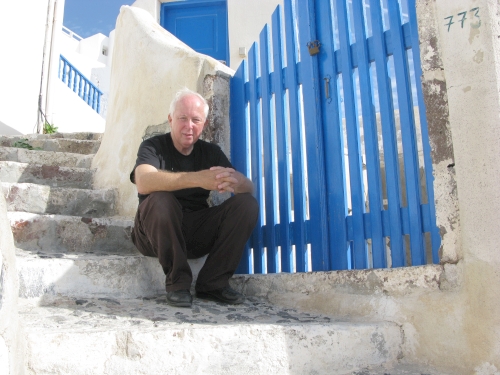 Fortunately there were few tourists up here at this time of day and so we began filming again.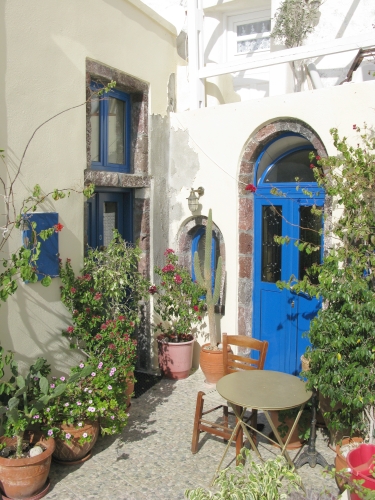 We filmed for about three hours before coming back down.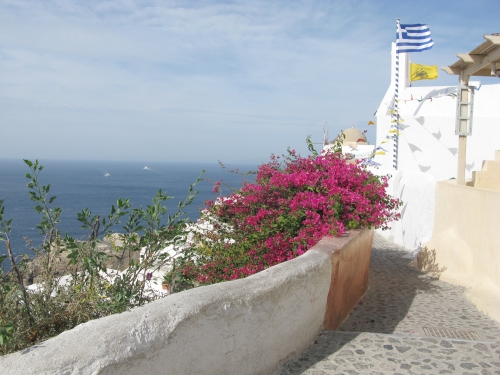 It was very windy so high up above the sea, but we both still wanted to film all that we could with the hopes of teasing out a good edit if at all possible.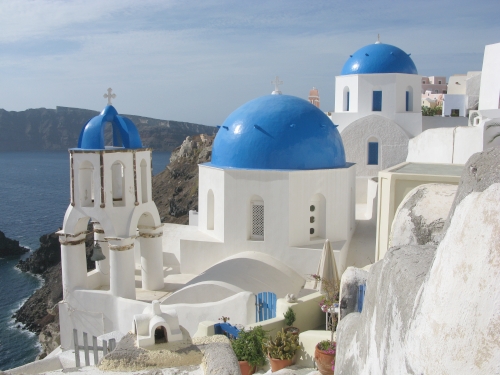 Oia has the quintessential blue-domed whitewashed church you see in so many Greek brochures and photographs...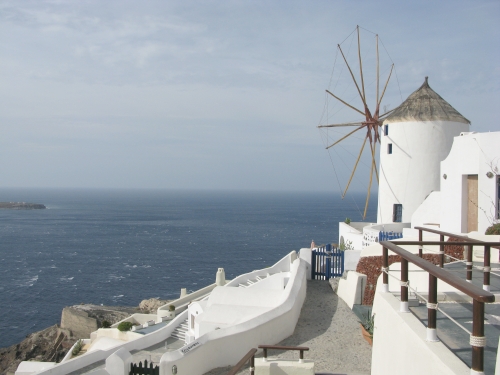 ...and a windmill, too. A good place for a windmill, I would say!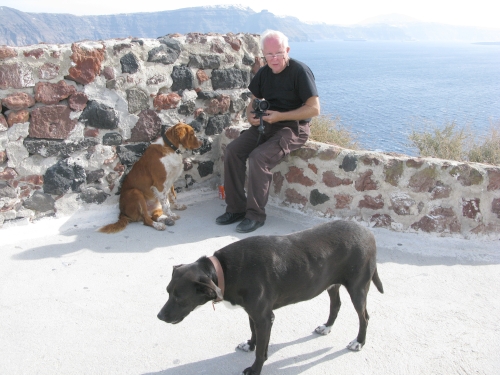 Two very friendly dogs just took up with us while we were filming and stayed right with us for the rest of the day. That was a treat – and a bit unusual, too, as we've seen so many cats but very few dogs in the Greek Isles.
Our two canine buddies each wore collars and tags but apparently, by mutual agreement with their owners, they were accustomed to free-ranging during the day.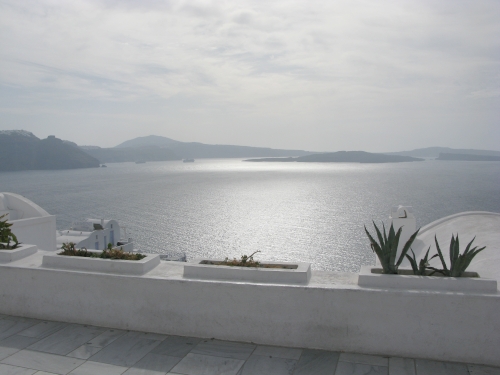 In addition to filming a virtual walk we also shot background plates that are drop dead gorgeous.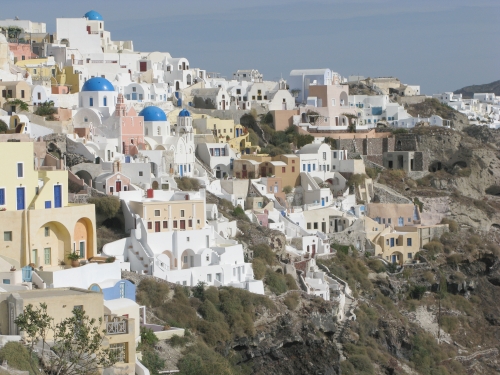 Santorini is located in the Cyclades Islands in the Aegean and Oia went un-noticed for the better part of half a century as the tiny population continued to decline. In July 1956 a 7.8 magnitude earthquake hit this picturesque location and caused massive damage.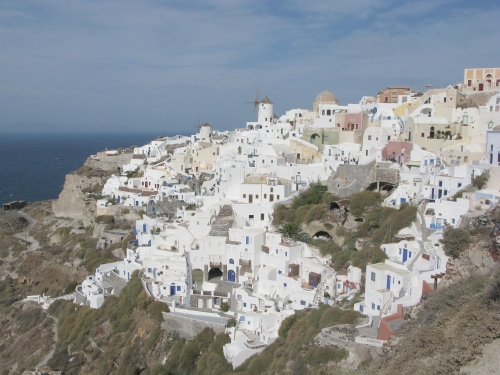 Surprisingly though, Oia was transformed into a pretty little town for travelers which is a very pleasant – and usually uncrowded – place to while away an afternoon. The people are friendly and the scenery is beautiful.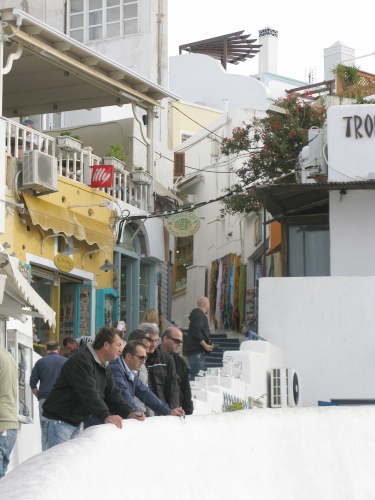 Back in Thira we met up with a Texas couple from our ship and enjoyed an ice cream together. They invited us to dine with them that evening back on the Queen Victoria (which we did and had a thoroughly enjoyable time).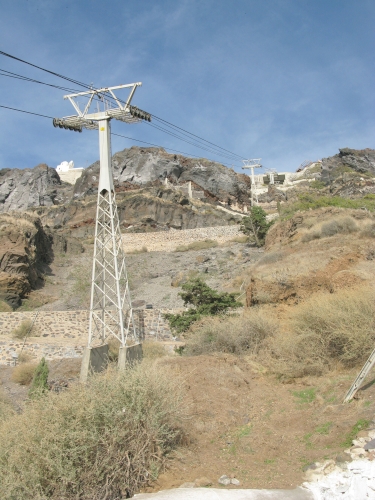 When we decided to return to the ship there was a problem.
The funicular which we had taken this morning up to Thira had shut down due to the high winds.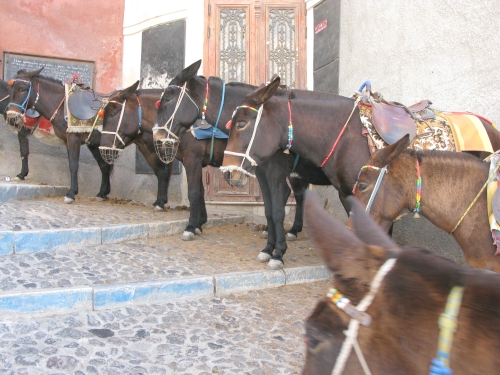 Therefore, we had two choices: ride a donkey down the steep incline....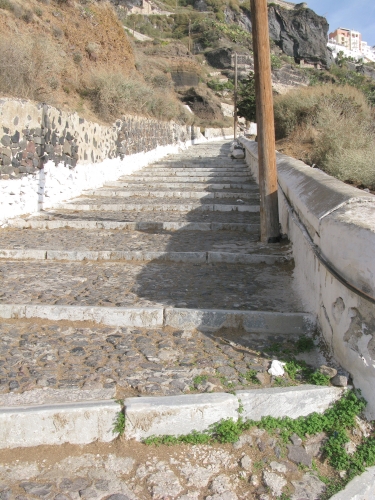 ...or walk down the 587 sloping, uneven stone steps.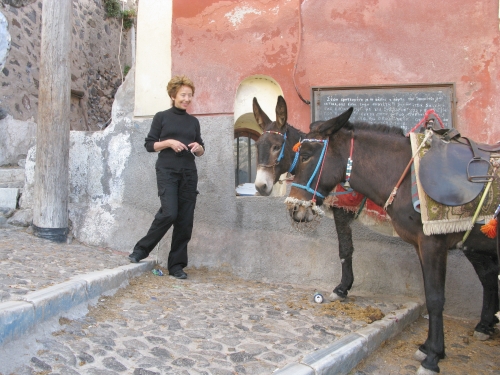 We were both exhaused, so Kathi chose to ride a donkey down the path...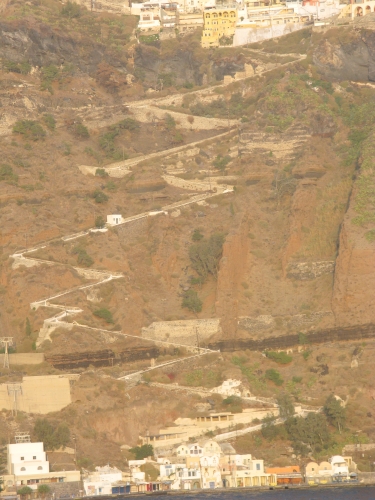 ... and I wanted to do more filming on the way down so I chose to walk down the 587 steps.
Turns out, that we both chose the wrong alternative - because both were wrong.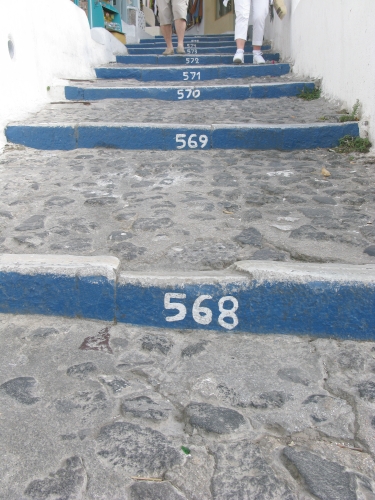 While Kathi approached a donkey wrangler and paid him the fee for the ride, I set off down the 587 stairs filming.
I quickly discovered that walking down the constant incline caused my calf muscles to complain and begin to ache. And at no point was the stone path level.
And after waiting and waiting for her ride to begin, Kathi discovered the dirty little secret of the Santorini donkey rides - the donkey wrangler will not begin the trek down the path until 4 or 5 other people have also paid him the ride fee..... and for the next 30 minutes, no one else wanted to ride a donkey down the path.
So Kathi first asked again and again, why wasn't the ride starting to which he kept saying, "It will begin soon."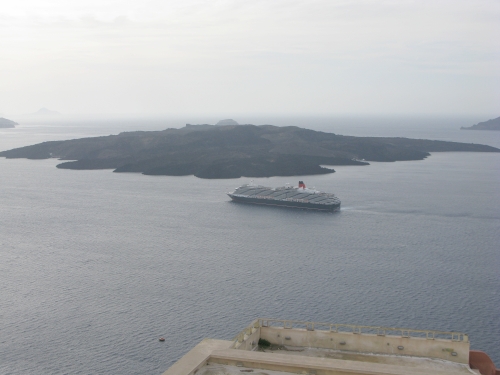 After repeated "It will begin soons," Kathi noticed that the time for the last tender back to the Queen Victoria was approaching and she was getting worried that she might miss it.
So, after almost 30 minutes of waiting for her donkey ride to begin, she asked for her money back and his response was, "The ride will begin soon." Kathi, normally the most polite and well-mannered of ladies, decided that this was just wrong and began to make somewhat of a scene, almost demanding her money back for the non-starting donkey ride. While this was going on, I was already down the hill at quayside and knew nothing of the drama that was taking place high above me.
Quickly other tourists gathered around Kathi and the donkey wrangler and they began to demand Kathi's money be refunded. And Kathi told the man that she would report him to the cruise ship. That appeared to change his mind and he gave Kathi back some bills and coins and Kathi set off walking quickly down the 587 steps.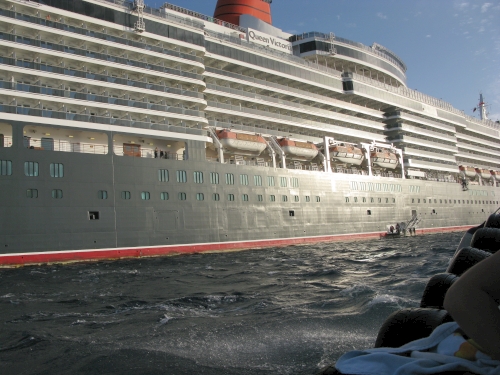 After waiting on Kathi for what seemed like forever, I became very worried that something had gone wrong. What to do? Should I walk back UP those 587 stairs to find her? About the time I was getting ready to being walking back up the stairs, she showed up.
We went to the dock to get on one of the very last tenders of the day. By this time, the seas were extremely rough, I assume because of the wind, and the tender bounced up and down violently. The Queen Victoria crew who were there to help us onto the tender were extremely cautious and therefore the boarding was very slow.
Eventually we made it back to the ship. Even though our day began and ended on an unpleasant note, Santorini was also magical.
Read part 3 of this European Filming Trip in - "Pompeii, Rome and Florence - 2010."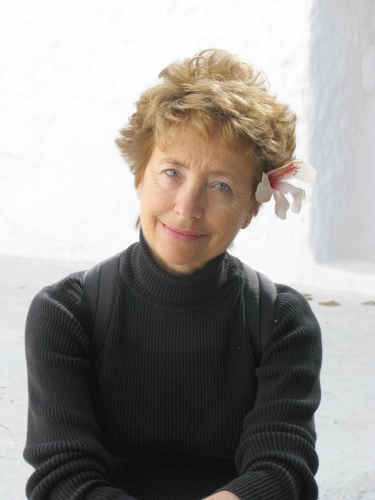 About the Author - Kathi Jacobs and her husband, Wayne, are the owners of VITA Digital Productions, a video production company specializing in creating Virtual Walks, Virtual Jogs, Virtual Cycling Scenery, and Virtual Cruises on scenic rivers. With over 50 different Virtual Experience Videos to choose from on vitadvds.com, VITA Digital Productions is the leading producer of Virtual Experience Videos in the world.